Estremoz Marble quarried in Portugal, in the municipality of… you guessed it… Estremoz!
Estremoz Marble is characterised as having an off-white background, offset by subtle, golden vein patterns scattered across the surface.
HOWEVER! We do not recommend using real marble as a kitchen worksurface… Real marble is porous, which means spillages will sink into and permanently stain the stone. Softer than granite, quartz and porcelain, marble is also easily chipped and scratched. So if it's a working, practical kitchen you're after, marble is a no no.
Then again… This doesn't mean ESTREMOZ is a no no.
Did you know that one of our amazing quartz suppliers has manufactured an Estremoz look-a-like in QUARTZ?
Well, we're here to break the news!
Exciting, no?
This means you can have the beeootiful Estremoz look in your kitchen, without the worry and stress of stains and scratches marring its glorious finish.
Oh, and as an added bonus, quartz is a fraction of the price of marble. Winners all 'round!
As it so happens, we're currently doing a happy dance over this BEAUT of an Estremoz Quartz Worktop fitted last week.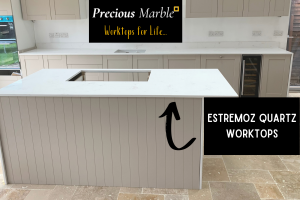 The customer chose the material in 20mm thickness (it comes in both 20mm and 30mm), to compliment the pale mushroom modern Shaker style kitchen cupboard doors.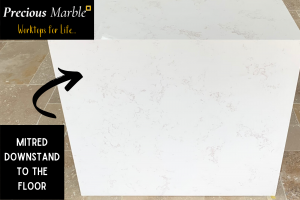 Estremoz is ideal for those of you who:
– Love the marble look but don't want to risk putting real marble in your kitchen (as above, real marble has a hefty price-tag and is easily damaged – not ideal for a working kitchen!)
– Would like a subtle marble-effect rather than the big, bold veins that are so popular
– Have a warm colour palette in your kitchen – in shades of browns, golds and greys that have a warm brown undertone
– Are looking for either a modern look or a traditional look in your kitchen – this stone works both ways, as it blends with your style of cabinets
If Estremoz Quartz looks like the stone for you, feel free to get in touch. We have an excellent showroom next to our factory in Elstow, Bedfordshire, where you can peruse worktops, samples and slabs, helping you design and build your ideal kitchen.